After careful consideration, the Board of Management of the Downtown Dundas BIA, has decided to cancel the Dundas International Buskerfest for 2020.
The health and safety of our community, vendors, performers, volunteers and festival support staff as well as our BIA members is of the utmost importance to us.That and the guidance provided to us by various levels of government and health professionals, led to our decision. We have also been advised that the situation may not change for several months, making it impossible for the festival to continue this year.
There is great disappointment that the situation with Covid-19 has led us to this decision, we look forward to being back June 4, 5 & 6 in 2021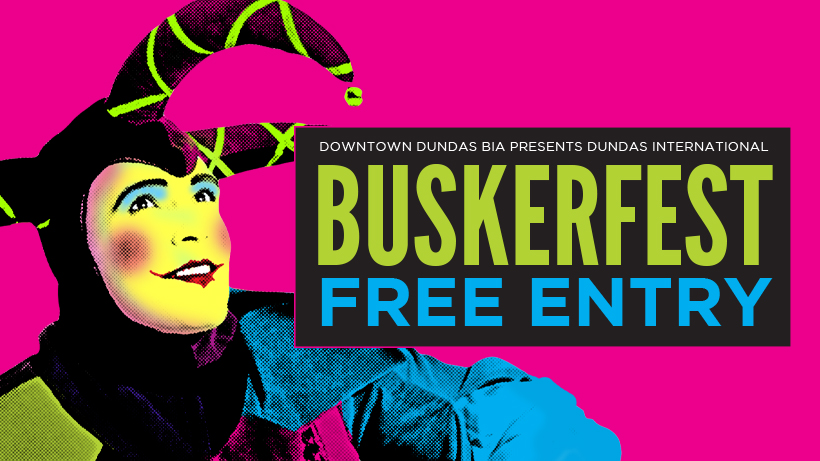 Friday 6:30pm-10pm, Saturday 11:30am-10pm, Sunday 11:30am-6pm!
Welcome to the 2019 Dundas International Buskerfest!
Leave the world behind and step into our charming downtown. Enjoy delicious treats and boutique fashion while performers from around the world bring JOY! Graceful tightrope walkers and dexterous jugglers, whirling hula-hoops and flying Chinese vases, the sounds of drums and flips and spy music fill King Street, just for you. We welcome performers from across Canada, the United States, the United Kingdom, Australia, Croatia, the Netherlands and Venezuela. Hamilton-area musicians and roving performers bring visual surprises and toe-tapping music around every corner. Keep an eye out for roving vines! Rope-walker Cirkatension blooms to the music of the 1920s, and Rhythm Works driving percussion gets everyone moving… Masters of manipulation Katay Santos and Jack Flash entice audiences with smooth moves and wicked humor… World hula-hooping sensation Lisa Lottie and contortionist Flexy Lexy dazzle you with physical feats testing the limits of human achievement… Grannies? Spies? Who are they really? Enjoy the mystery (and plungers!) of Her Majesty's Secret Circus and the high-flying antics of the Stupendous Silver Sisters. The acrobats of Quatuor Stomp mix timing, precision, and perfect teamwork to perform brilliant and hilarious stunts!
Enjoy our FAMILY FUN STOP! Located at Pitch #5, this stage features all family-friendly acts and is located next to the kids' activity area with games, juggling, hula-hooping and just hanging around. We're proud to bring world-class professional artists with incredible skills and outrageous comedy to the Dundas Buskerfest. Our festival—your festival!—actively seeks performers who represent our diverse audience. Do you know an act—local, regional or international—you'd love to see here? Let us know at the info booth or on social media. If you have a great time, tell your friends—share Buskerfest and share your JOY!
– Allison Williams, Artistic Director